Our Mission
Feeding & Caring
Every day the stray dogs living in the streets of Laem Mae Phim get fed and looked after. This is the best way to gain the dogs trust and socialize them in order to treat them if they are sick and to neuter them. By keeping the dogs fed and healthy we also keep them calm and avoid that they will be a threat to humans. Only a dog that is starving, scared or hurt will attack a human so this is a good way to let us coexist.
Dog Shelter
Everyone deserves a home where we can feel safe and loved. In the shelter the dogs are safe from harm, looked after and they never have to starve again. The shelter is their home for now, while waiting for a place to call their own. Click the photo to read more.
Neuter and Spay
The most effective way to reduce the stray dog population is through neutering males and spaying females. We arrange campaigns offering locals to get their animals fixed for a reduced price and we also use the TNR method (Trap Neuter Return) to prevent the population of stray dogs from increasing. This means that we trap the dogs using a stun gun, neuter and vaccinate them and after that return them to their area where they feel safe.
Rehoming
Every dog deserve a loving home. In our shelter we have about 70 dogs longing for a forever place to feel safe, get looked after and be loved. Click the photo to read more.
About us
DRT is a non profit organization which main purpose is to give the stray dogs in Laem Mae Phim a better life and to diminish the number of suffering stray dogs.
No one knows exactly how many neglected, abandon and wild dogs there are in Thailand. But there are millions. Through TNR (Trap-Neuter-Return), vaccinations and adoption we will do everything we can to reduce the number of suffering dogs in the Leam Mae Phim, Rayong, area. Our main goal is by wide membership and idealistic work with volunteers creates an economic and stable foundation. Every contribution will make a difference and we will present it on the webpage, the amount and name (or reference number if you would like to be anonymous). We will likewise present all the expenses on the page. This is going to be a foundation where all the means provided for the dogs are presented without any disappearance on the way. First of all we want to reduce the dogs suffering, but also to start a campaign for sterilization to reduce the abundance of stray dogs. Today we can find new born puppies in almost every corner. 50% of the puppies dies due to suffering, lacking nourishment, water and shelter. Simultaneously as we sterilize we will perform vaccinations against rabies and scab. The dogs will also be provided with a collar. This association should be suitable for all people, even those who don't like stray dogs, because a large number of stray dogs will be reduced. We reckon that in a three-year period the number of stray dogs will have decreased to at 25% of the present tribe.
Castration and Sterilization

By neutering the dogs, we slowly reduce the stray dog population in Mae Phim. We also help out if there are Thai families that want their dogs or cats neutered.

Medical Care

We make sure that as many dogs as we can afford to help get the treatment they need. Our veterinary comes to Mae Phim when we call him and he treats the dogs with skin diseases, vaccinate against rabies and scabies, take care of wounds etc.

Feeding

A starving dog can be an aggressive dog. By feeding the dogs every day we keep them calm. One might think that it will attract more dogs to the area. Yes, it might. But by feeding them they won't be hungry and therefore they won't be a threat to humans. The same way we are earning their trust and can catch them for neutering and treatment.

Rehoming

Every dog, as every human, deserves a loving home. Our goal is to find a home for the dogs we care for, in Thailand or abroad. If you can't adopt, please sponsor monthly.
Our Team
Dog Rescue Thailand is a non profit organisation which means that everyone, except our veterinarian and shelter staff, are doing volunteer work. Every donation is benefiting the dogs, without any disappearance on the way. We are always in need of volunteers! It is hard work, but we love it.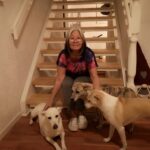 Theresa
Founder & Shelter manager
Theresa founded DRT 2007 when living in Laem Mae Phim. Today she lives in Sweden but travels to Thailand as often as possible. Together with the rest of the board she has daily contact with the staff, volunteers and veterinarian clinic. Theresa is responsible for the financial accounting and to lead Dog Rescue Thailand on our mission.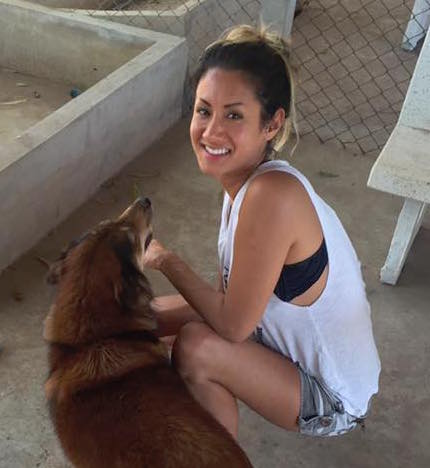 Sandra is in charge of volunteers, making reservations of the volunteer house and guide our guests so that they get the best stay possible while working at our shelter. She is Theresa's daughter and lives in Sweden as well.
Julia is in charge of the online presence and has founded the German branch: Dog Rescue Thailand gUG. She lives in Switzerland and visits Thailand twice a year.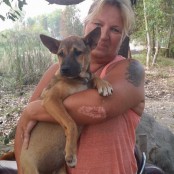 Soila lives in Thailand during the winter and in Sweden in the summer. Part of the Dog Rescue Thailand board and a team volunteer. During her months in Thailand she is a important part of the daily work in the shelter and with the dogs in the streets.
Doctor Visarut
Veterinarian
Khun Visarut runs a veterinarian clinic in Ban Phe (25 km from Mae Phim) and is the one we call when we need help. He and his team are a very important part of our work. When we do neutering campaigns Khun Visarut is work leader for his team and volunteer veterinarians.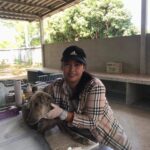 Uh lives at the shelter with her husband and her two kids. She is organizing the operative business on site and takes care of the dogs on a daily basis. She is the one who manages to connect with even the most traumatized dogs. Every afternoon she feeds about 150 dogs in the streets and makes sure that every dog gets food and that they are healthy.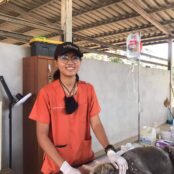 Doctor Boonrat
Shelter veterinarian
Her nickname is Nurse. She lives at the shelter and is employed by Dog Rescue Thailand as the shelter veterinarian. She is in charge of the medical care for all the dogs.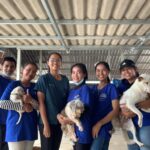 On, Oui, Nurse, Bua, Da, Uh
Shelter staff
The shelter staff: Every day they take care of 200 dogs inside the shelter. They feed the dogs twice a day, let them run, shower them and play with them. They also ensure that the shelter is clean and tidy. When small things need to be fixed, they get the job done.